Currently employed as a User Interface Specialist for Queensland Government.
Benjamin S. Boyle, Multimedia developer
Multimedia developer interested in creative and technical challenges in interactive design to develop useful and innovative solutions to support the needs of real people.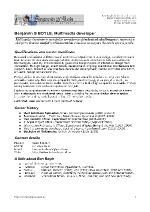 Resume of Ben Boyle (PDF, 254 kB)
Contact Ben Boyle
Email

Web

Twitter

Facebook
Copyright Ben Boyle 2003.